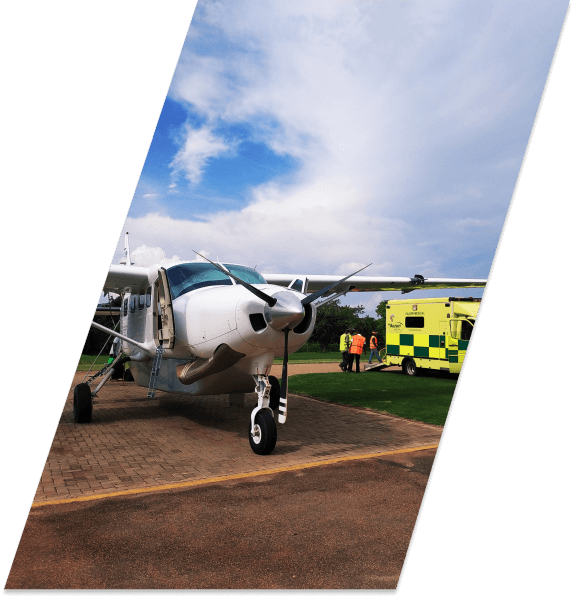 Founded in August 2019, Priority Air Ambulance is a membership based medical evacuation service that delivers advanced life support care to seriously injured members throughout Uganda. Headquartered at Kajjansi Airfield.
Our proactive model allows us to have dedicated aircrafts with preapproved flight clearances. PAA has trained medical personnel on standby 24/7 accommodated at our crew house located only 100 meters from the runway where our aircraft are based. Our pilots and paramedics can be in flight to you within 15 minutes of contacting our emergency call centre. These 3 key aspects of our business make it better than anything on offer and allow us to be with you as quickly as possible when time is the most important variable to your survival.
Our parent company, Kampala Executive Aviation, founded in 2008, have over 10 years? medical evacuation experience with a 100% safety record. KEA provides medical evacuation services to both private and government clients and has built a reputation for high quality and professional services.
Average Flight Time to Zone
No Fly Range
20 mins
40 mins
60 mins
1 hr 20 mins
1 hr 40 mins
Medevac to Nairobi - 1 hr 50 mins
Defibrillator/ECG Machine/Cardiac Monitor
Mechanical Ventilator
Pulse Oximeters
IV and Syringe Pumps
Intubation Equipment
Built-In Medical Oxygen
Portable Suctions Units
Intravenous Solutions and Specialized Medications
FAA approved stretcher
Caravan C208EX
AS355N
Falcon 50
Priority Air Ambulance is a registered charity. In order to make the service sustainable and available to the nation, we are grateful to receive all donations from both individuals and as part of larger organisations' Corporate Social Responsibility programs. All donations will be held in an operational account that will allow Priority Air Ambulance to respond to natural disasters, mass casualty events and any nation-wide incidents that would require these services to the community that cannot not afford them.
Donate